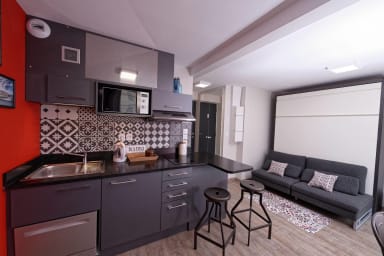 studio, neuf, contemporain avec canapé-armoire convertible en lit, coin bureau et kitchenette avec lave...
Small studio, new, contemporary sofa bed with convertible bed, desk and kitchenette with dishwasher, induction hob, hood, microwave / grill, electric kettle glass, iron and ironing board, blender , crockery and cooking utensils, welcome drink with water bottle and pods coffee cocoa, tea, tea, milk for breakfast. Very close to the station of the part-god.
Housing guarantee between each client (COVID 19)
Following the outbreak of Covid 19, and in order to eliminate any possible risk of contamination, we invested in a new disinfection process in the studios after each customer departure. It is an ozone treatment of the ambient air and all surfaces (including curtains, cushions, air conditioning units) by ozone.
We give a guarantee of decontamination and deodorization of the rooms, avoiding pollutants, odours and harmful particles in addition to microbiological improvements (bacteria, viruses and fungi…) in areas such as walls, furniture and textiles (bedspreads, curtains, etc.).
This new treatment completes and finalizes cleaning tasks
Advantages :
Very nice studio furnished and equipped, about 20 m ². It includes a main room with a fully equipped kitchen and a dining area, a bathroom with toilet. as well as a balcony with a table and two chairs, overlooking the rue de la villette and the hotel area. Ideal for a short stay in LYON. It is located on the 6th floor with elevator in a small quiet condominium.
Apartment ideally located in the immediate vicinity of the station of the part-god (gates alpes -rue of the villette).
Cheaper than a hotel.
Scrupulous cleanliness and hygiene (cleaning done by a maid)
Better than a hotel room thanks to its kitchen area: you are at home.
All the necessary equipment is on site.
Bed sheets and towels included.
Flat screen TV connected, smart TV blue tooth, WiFi very fast thanks to optical fiber (70 mega).
Sound insulation between housing and with the outside. If need the electric double skin acoustic shutters can be closed.
Great autonomy thanks to the access management by digicodes with a unique code which is your own for the duration of your stay.
access in the building thanks to the codes of the 2 doors that will be communicated by email after booking
take the elevator to the 6th floor.
1st entrance on the right, push the door, enter the airlock then 1st door on the right. Type the code that has been communicated to you on the digital code: the door opens.
This code is specially reserved for the duration of your stay.
I am reachable on the phone.
District of the Part Dieu train station: Porte Alpes towards Rue de la Villette, in the direction of the Frankfurt square (bus station) and the intermodal transport hub.
Close to the shopping center of the god and Halles Paul Bocuze, the auditorium of Lyon, the municipal library.
In the area: supermarket, restaurants, sports halls, swimming pool.
transport network
Metro
t3 and t4 tram
long-distance trains at Part-Dieu train station at 50 meters
Rhonexpress bike and shuttle station for Saint Exupéry airport
For your peace and quiet: Remote surveillance of the entrance lock (common part not privative before entering the apartment).
Security deposit retained in case of damage or theft: 300 €.
city ​​tax per night and per person extra, 1.10 € transferred Métropole de LYON.
Service charge (cleaning) of 29 € extra per stay, whatever the length of stay (up to 7 days). Please contact us in case of longer stay: for your comfort extra service charges (30 € package for each period of 7 days) will be applied for change of sheets and towels and cleaning for each period of 7 days.
Strictly non-smoking apartment for the respect of the following travelers. Please strictly observe this instruction. The apartment is equipped with a very sensitive smoke detector.
Access to the apartment is made independently for travelers thanks to the access codes communicated during the booking.
Any illegal activity is prohibited in the premises and cash payments are refused. In case of suspicious behavior detected by remote surveillance of common areas, a complaint will be immediately made to the police station of the 3rd district of LYON.
Free cancellation until 24:00 before your arrival .
+ More
Less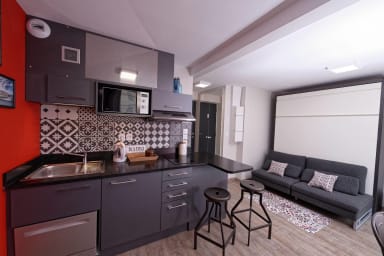 studio appart-hôtel neuf côté Saône à la gare de la part Dieu
porte accès appartement coté saône
sas d'entrée commun aux 4 appartements
mur du fond avec photo de coté saone
matelas Simmons multispire haute qualité
quartier depuis porte de la gare , immeuble à droite
entrée principale 63 rue de la villette
façace principale immeuble 63 rue de la villette
façade principale immeuble
façace principale immeuble 63 rue villette et angle ave Georges Pompidou
vue rue du balcon , rue de la villette et portes Alpes de la gare part dieu
The Space
Accommodates: 2
Bedrooms: 1
Bathrooms: 1
Property Type: Apartment
Check-in: 16:00
Check-out: 10:00
---
Amenities
Cleaning and disinfection

Contactless check-in and check-out

Flat smooth pathway to front door

Path to entrance lit at night

Paperless / recycled paper

Staff wear protective equipment
Reviews
Really At Home in Lyon

The apartment was exceptionally clean and comfortable. Great location and a nice high floor with a nice balcony. Full service unit and safe.

August 2022

---

Studio bien équipé

Le studio était bien équipé et très bien situé dans Lyon : juste à côté de la gare de Lyon Part Dieu et tout près du Tramway La Villette/Part Dieu. Il faisait très chaud et la climatisation a eu du mal à rafraîchir le studio bien que nous l'avions réglée sur 17 degrés.

July 2022

---

Mackenzie M. (

United States

)

Cote Saone Studio

It's a great studio apartment! Very clean! Coffee maker, refrigerator, stove, dishes and flatware, good closet storage, great queen bed, the complete package! Claude , the owner, was very helpful. Always available, he return/answered my messages almost immediately. The Tram and Metro subway are 2 minutes away, a fast and easy way to travel throughout Lyon.

May 2022

---

Séjour à Lyon Studio côté Saône

Un studio très agréable et bien équipé. Bonne literie. Le plus : les instructions pour l'arrivée et la réactivité du propriétaire pour toute question. Très bonne qualité d'accueil.

May 2022

---

BIEN

BIEN le séjour est comfortable

April 2022

---

Parfait.

Studio très propre, très fonctionnel, équipé d'un ascenseur. Coin cuisine bien équipé. Hôte très réactif. Bonne literie ( le lit est très haut et demande un effort physique pour le remonter si vous voulez profiter du canapé, attention pour des personnes peu valides, aucun problème pour les autres).

December 2021

---

Catherine C. (

United Kingdom

)

Perfect

Lovely apartment, good facilities and comfortable bed. Very central location

December 2021

---

Petite escale cosy

Superbe studio mignon bien équipée avec toutes les commodités. L'hôte est super et accommodant. Je ne suis restée qu'une nuit hélas. On entend un peu les transports (près de la gare). Ça ne m'a pas dérangé. Ce fut un excellent séjour et je reviendrais.

November 2021

---

Séjour 2 nuits 17 et 18.11.2021

Appartement idéalement placé à 50 mètres de la gare. Très propre gestion autonome facile grâce à un excellent guide du propriétaire. Propriétaire disponible et à l'écoute.

November 2021

---

sejour à Lyon

Le studio est tres bien équipé, bien placé face à la gare et desservi par le tram. C'est juste impeccable

October 2021

---

Tipptopp

Très jolie et pracique….

October 2021

---

Parfait

Studio très bien équipé et très propre

August 2021

---

Beau logement

Déco, équipements et situation géographique au TOP! Facile d'accès avec le Rhône express, proche de toutes les commodités, je vous recommande ce studio.

July 2021

---

Good studio in part dieu

We stayed in the studio for 1 night, but it was a really good night. The studio is fully equiped and the balcony is a perk. There are 3 parking lots close by the studio, which are great. For staying 1 night of 2 the studio is great. If you are staying for a week or longer, the studio might be too small. We had a great stay and Claude was really helpful. I would recommend it

July 2021

---

Studio spacieux et confortable, parfaitement aménagé et propre

Un des 4 studios proposés dans cet immeuble. En commun : la propreté, l'équipement, l'aménagement très ingénieux et complet, la qualité de l'accueil, une organisation sans faille et une situation très pratique pour les voyageurs. Le meilleur rapport qualité / prix du quartier.

June 2021

---

Excellent séjour

Nous avons passé 3 jours dans le studio COTE SAÔNE et nous avons beaucoup apprécié notre séjour. La localisation est idéale, et le studio est très bien équipé, très propre et sécurisé. La rue est assez bruyante aux heures de pointe, mais cela ne nous a pas empêché de profiter de notre séjour. Notre hôte a été très arrangeant pour nos horaires d'arrivée et de départ, et s'est montré très disponible ! Je recommande !

May 2021

---

Loc 2 nuits

Appartement très propre et idéalement situé. Gérant très disponible. Je louerai à nouveau avec plaisir.

March 2021

---

---

At home in lyon

Séjour au top. Déjà venu en 2018, je ne suis pas déçu du studio. L'arrivée dans le logement est au top, le propriétaire est toujours disponible et répond directement aux sollicitations. Le studio est impeccable niveau propreté, à tous les équipements requis pour passer un excellent séjour. Rien à redire si ce n'est merci beaucoup !

January 2021

---

Parfait

Tout était nickel pour un weekend

January 2021

---

Superbe appartement

Nous avons passé un bon moment dans cet appartement décoré avec du goût. Tous les équipements étaient présents. À moins de 5 min de la gare. Claude était très gentil.

August 2020

---

Très propre et très belle emplacement

Très beau studio avec balcon

August 2020

---

---

Séjour 3 nuits AT HOME IN LYON ( studio côté Saône)

Studio très bien situé ( très proche de la gare). Accès simplifié ( pas de clés) grâce aux digicodes fournis par son propriétaire. Le studio est très équipé el la literie confortable. Le petit balcon offre une vue sur la gare et les trams. Le propriétaire est toujours à l'écoute et réponds très vite à vos questions. Je tiens à le remercier encore de m'avoir permis d'accéder au logement à mon arrivée ( avant l'heur prévue de mise à disposition ). Je suis ravie de mon séjour à Lyon. Je recommande vraiment .

July 2020

---

Good stay with laundry machine

Apartment is located in front of Part-Dieu station and shopping center. So it is best location. I appreciated to use laundry machine during the stay(wash + dry) because of long business trip. Wi-fi connection is also excellent, so I could access internet smoothly.

March 2020

---

Séjour parfait

Nous reviendrons avec plaisir

February 2020

---

Notation

Le studio est agréable a vivre

February 2020

---

Ótimo custo benefício

Um studio super bem equipado e ótima localização. Bem na frente da estação Central de trem e na frente do ponto terminal do trem que faz a ligação cidade - aeroporto. Uma facilidade enorme pois não precisa de taxi! Este Studio apresenta máquina de lavar roupa que muito ajudou na viagem. Supermercado fica do outro lado da estação de trem, dentro do shopping center. Voltarei com certeza a me hospedar neste local. O proprietário foi super prestativo. Deste a entrega da chave e durante a estadia assegurando que tudo estaria bem. Limpeza impecável do local.

January 2020

---

リヨン旅行

最高のリヨンでの滞在ができました!! 圧倒的なコストパフォーマンス! キレイ、自らの家での生活のようでした!

December 2019

---

Excellent

Merci beaucoup pour votre disponibilité, les conseils et consignes. Ravie d'avoir fait étape dans votre établissement.

November 2019

---

Séjour affaire

Emplacement idéal pour un court séjour à 2 pas de la gare. Bien équipé, propre et très sécurisé. Je le recommande vivement!

October 2019

---

A good tourist base with convenient transportation

Located near the airport tram and TGV station, it is easy to move. There are washing and drying machines and dishwashers, and dishes and cutlery are available. I'm happy to see Netflix.

September 2019

---

M. Cobb

It was a great stay- very clean and convenient to the train station. Claude was great at communicating and very accommodating.

September 2019

---

Una experiencia fantástica!

Apartamento muy bien situado y con todo lo necesario para hacernos una estancia muy agradable. Nuestra persona de contacto, Claude, atento en todo momento y muy amable. Vamos a recomendar este sitio sin duda alguna. Muchísimas gracias!

September 2019

---

Good location

Room is very clean, and has nice kitchen facility. Apartment is very close to station and what I specially appreciated is laundry machine(wash + dry). There is balcony and I enjoyed coffee time there. I am sure, this is best place to stay near Part Dieu station.

September 2019

---

Goran

Location and all was excellent Realy good expirian

August 2019

---

Stella

地點超優、生活機能完善、交通方便! 房內設備時尚實用、超乾淨、雖然房內空間不大..但是有洗衣機、廚房冰箱、電爐、洗衣機...設備俱全.. 值得推薦的住宿......

June 2019

---

Parfait

Un sejour qui s'est agréablement bien passé, rien à dire, studio irréprochable. Tout est nikel. Je recommande vraiment. À retourner!

June 2019

---

Un super sejour

Suoer bon séjour dans ce lieu unique, bien placé, super équipé et facile à réserver. On conseille vivement !!!

April 2019

---

Côté Saône

À refaire tout simplement ;)

March 2019

---

COTE SAÔNE studio appart-hôtel Part-Dieu, super!

Vraiment heureux d'avoir découvert cet endroit. Parfait en tout points!

March 2019

---

Séjour professionnel imprévu

Absolument parfait ! Rien à dire. Je conseille vivement et reviendrai à l'occasion

February 2019

---

Excellent experience

The place is very convenient - across the main train station in Lyon, looks brand new and clean; studio has everything one can desire, the bed is comfortable. The owner makes sure tenant understands how to enter the property and stays available through the process (checked). Overall experience is excellent. Would gladly recommend and will definitely use in the future trips to Lyon.

February 2019

---

Come les autres studio

Rien à redire Parfait La cafetière Nespresso en plus.

February 2019

---

Darragh McHugh

Lovely studio with excellent facilities right beside train station. Highly recommended.

October 2018

---

Nice design furniture

Comfort bed and perfect and clean all area

October 2018

---

Studio côté saone

Idéal pour séjour à Lyon. Proximité immédiate gare côté opposé au centre ville. Idealement aménagé et décoré. Petit dej extérieur à proximité. Fenêtres donné sur boulevard seul tout petit bémol.

October 2018

---

Allez y les yeux fermés

Propriétaire très gentil et bienveillant envers sa clientèle Appartement juste parfait et bien placé

October 2018

---

Jessica T. (

United States

)

Apt in Lyon

The location was good. Close to the train and within walking distance of many places. There where a couple of mishaps. The door code do get into our zroom was blocked one night so we couldn't get in. I had to call Claude to have him reset the code. Also our internet wasn't working and again had to call Claude so we could get put onto another network. Both where cleared up but still should not have had the problems in the first place. The place was cleaned and cute and we enjoyed the balcony.

September 2018

---

The best stay ever

It was a great stay. The room was very comfortable and the host provided everything that could be useful during a stay. The room was very spotless. The location of the building is really close to the railway station, bus and tram stops and is really close to the city center.

September 2018

---

Magnifique pied à terre à proximité de la Gare Part Dieu

Un petit appartement magnifiquement décoré et équipé, insonorisé et situé à proximité directe de la Gare Lyon Part Dieu. Je recommande vivement cet appartement, Claude est vraiment ultra disponible et aux petits soins pour ses clients!

September 2018

---

Amazing stay

We had the best time in this fully airconditioned studio. It had everything we needed for our stay in Lyon. The location was great with the train station and metro right outside, and the host Claude was attentive and easy to communicate with. 10/10 - would recommend!

July 2018

---

At home

Appartement propre, l'indication du propriétaire est excellente, la proximité du centre ville surtout pour le centre commercial et la navette aéroport. Je revienderais à chaque fois que j'aurais l'occasion.

July 2018

---

commentaires séjour juin 2018

très bien : bonne qualité de réception et de suivi de l'installation : prestations haut de gamme nous reviendrons jean marie

June 2018

---

Appartement agréable

J'ai passé une nuit dans l'appartement "Côte Saone". Cet appartement est très agréable, avec tout le nécessaire. Claude a été très prévenante et a demandé régulièrement de mes nouvelles pour savoir si tout se passait bien (arrivé et départ). Expérience très positive, je ne manquerais pas d'y retourner si besoin !

June 2018

---